Be sure to have your excel template file ready for the import process. If you do not yet have the excel template, you may download it here. Below you will also find additional industry specific chart of account templates that you may download.
To import your chart of accounts template:
1. Select "Settings", "Business Settings", then "Chart of Accounts" under the main navigation.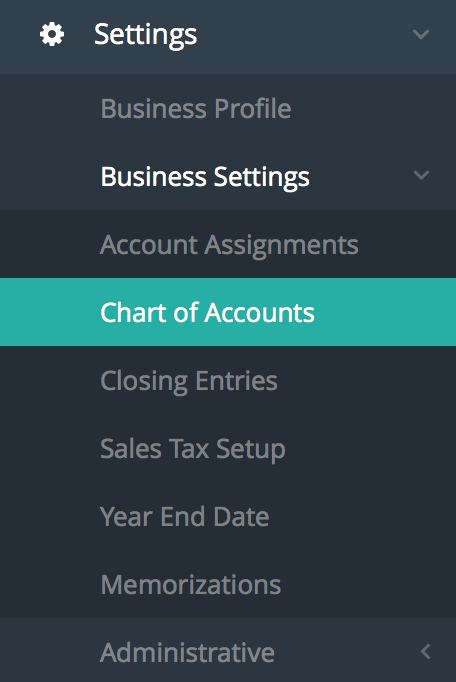 2. Select "Use your own template" from the header box. If you already have existing accounts, select "import".

3. Click "Upload File"
4. Search for the excel file, and click "upload".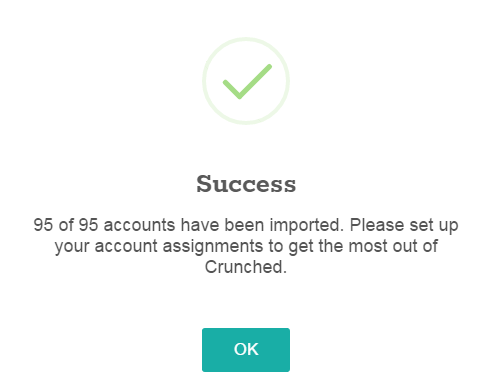 5. When your chart of accounts excel template imports, you will receive a notification of how many accounts have imported correctly, and how many did not. If accounts did not import correctly, you will receive a dialog as to why.
NOTE: If you are going to create your own chart of accounts you must follow these guidelines regarding account types, and reporting categories. Headers must match the Crunched import template.
Import Excel Text Formats:
Account #:
Alpha or numeric characters accepted
Type:
Asset, Liability, Equity, Revenue, Expense
Account Category:
If Asset, account category must be:

Current Assets
Fixed Assets
Other Assets

If Liability, account category must be:

Current Liabilities
Other Liabilities

If Equity, account category must be:
If Revenue, account category must be:

Revenue
Income Taxes
Other Income

If Expense, account category must be:

Operating Expenses
Cost of Goods Sold
Income Taxes
Other Income
Undistributed
NOTE: Accounts that you do not categorized will be placed into an uncategorized section making your financial reports inaccurate.
Download import template here: